Upcoming Events
Upcoming Events
**Special Announcement
The Learning Resource Center-South is temporarily closed due to precautions taken at Rowan University to address COVID-19. For additional information on Rowan's policy, please visit www.rowan.edu/virusinfo.
We realize that these are challenging times for students, educators, parents and guardians. To make things just a little bit easier, we've put together a collection of Online Resources and Video Resources. Please check back often as we will be making regular updates and adding new offerings. 
Stay connected with us through our social media (Facebook, Instagram, and Twitter) for additional updates.
Upcoming Events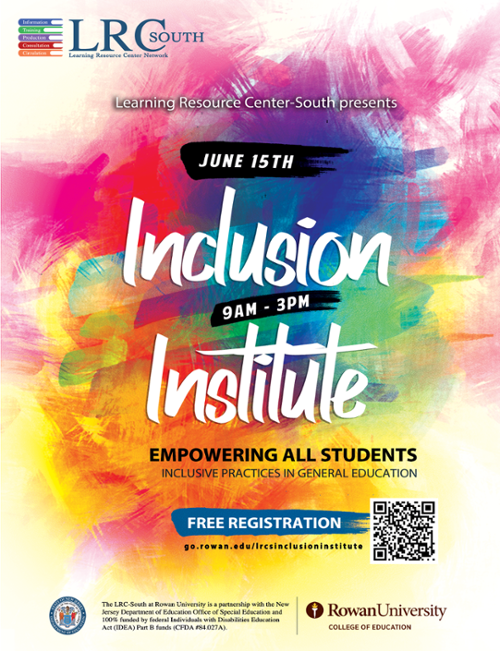 June 15, 2021 | 9AM - 3PM | Virtual Conference
The LRC-South Inclusion Institute is a
FREE full-day, virtual event
for all educators which will focus on reimagining inclusive education in the post-pandemic classroom. Presentations will emphasize the use of multi-tiered systems of support to reframe student abilities and growth. This virtual conference will include a keynote address and professional learning sessions exploring concepts critical to the work educators are doing to improve outcomes for students in inclusive settings. Presentations will connect theory with practice and provide resources, skill building, and engagement through topics that support success for all students. To learn more visit
go.rowan.edu/lrcsinclusioninstitute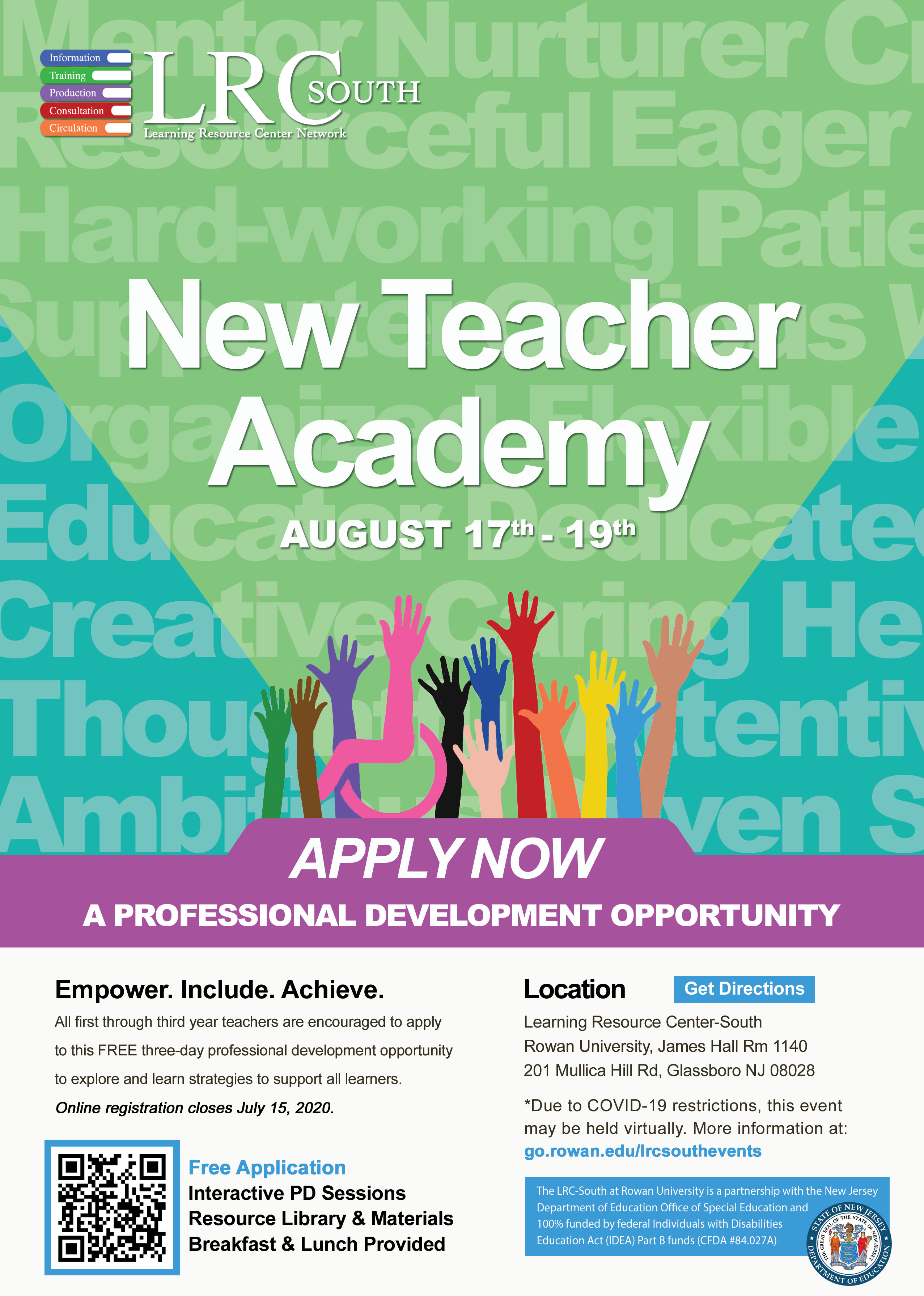 Professional Development Opportunity!
The LRC-South is pleased to announce the New Teacher Academy (NTA) on August 17th - 19th held in James Hall, Rowan University. All first through third year teachers are encouraged to apply for this FREE three-day professional development opportunity to explore and learn strategies to support all learners. 
NTA will offer high-quality professional development experiences to support the professional growth of new teachers as they enter the teaching profession. This program will address generalized topics that will be beneficial to all new teachers, as well as specialised topics that will focus on researched-based, high leverage inclusive practices. 
Interactive PD Sessions | Professional Learning Community | Resource Library & Materials 
Online Registration closes June 15, 2021. *Please note: Due to COVID-19 social distancing guidelines, adjustments may be made to provide a virtual/hybrid conference and/or professional development during the academic year.