family-community-events
family-community-events
Family & Community Events
We are offering the following events and look forward to working with you!
Video Resources
The LRC-S provides information and resources for families with children identified with disabilities. Although these presentations provide information aligned to Rowan University's Glassboro campus, this information is provided as a model of resources that parents and students could seek at other programs, colleges and universities. 
Browse Videos
Exploring Pathways from High School to College for Students with Disabilities with John Woodruff
This video series is designed to provide high school students with disabilities and their parents with information needed for a successful transition from high school to college.
Preparing for a Successful Transition to College
This video provides an overview of the college transition process, including the stages of transition planning, strategies for a successful transition and challenges students may face. Understand how college is different from high school. Learn about the importance of parent partnerships and transition tips for parents. Review the multiple paths to college that are available to students with disabilities.
Supporting Documentation: 
Your opinion is valuable to us and your feedback helps us to design videos and activities that provide information and resources that are most helpful to you and your family. Please take a minute to let us know what you think! Submit Feedback
---
Higher Education Services for Students With Disabilities
Learn about key resources, supports and services available to students to enhance a successful transition to college and encourage a positive college experience. Review the importance of asking for help and making use of the resources provided to students. Consider the options of  commuting or living on-campus. Remember that whatever your college of choice is, be sure to use the resources and ask for help. 
Supporting Documentation: 
Your opinion is valuable to us and your feedback helps us to design videos and activities that provide information and resources that are most helpful to you and your family. Please take a minute to let us know what you think! Submit Feedback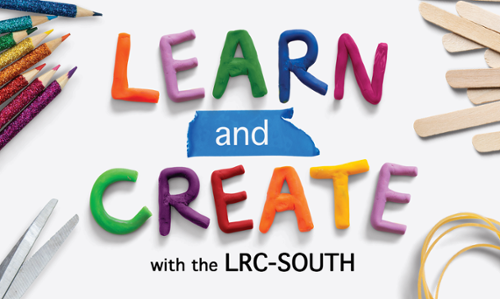 Learn & Create with the LRC-South
Make learning fun with these hands-on educational activities and helpful resources for parents and educators. Ice Cream Sight Words | Prop Box | Ten Frame Counting Match | Young Authors Become Engaged Readers | What's the Weather Interactive Chart | Beginning Sounds Roadway - Learn More