CASE Events
CASE Events
CASE Events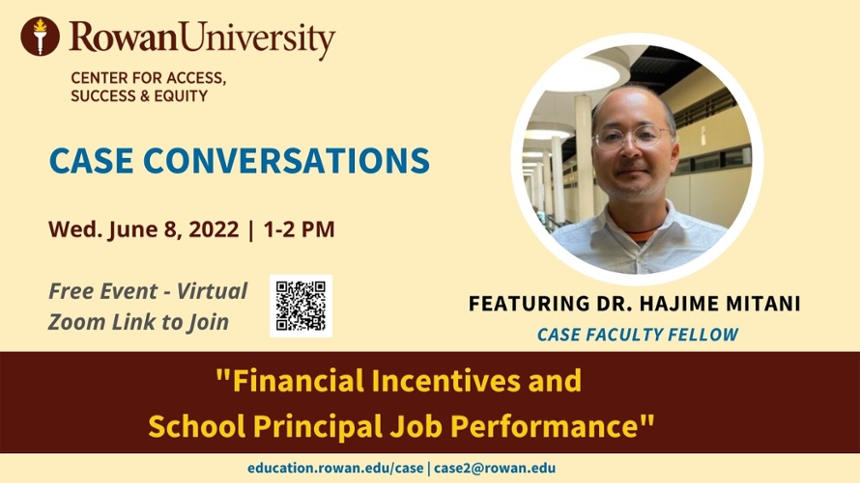 We hope you can join us for the upcoming CASE Conversations event featuring the research of Dr. Hajime Mitani, who served as the CASE Faculty Fellow for the academic year 2021-22.
The title of the presentation is "Financial Incentives and School Principal Job Performance".
Please note that this research is funded by the AERA-NSF Research Grants program.
We look forward to your attendance! 
Past Events
CASE Research Spotlight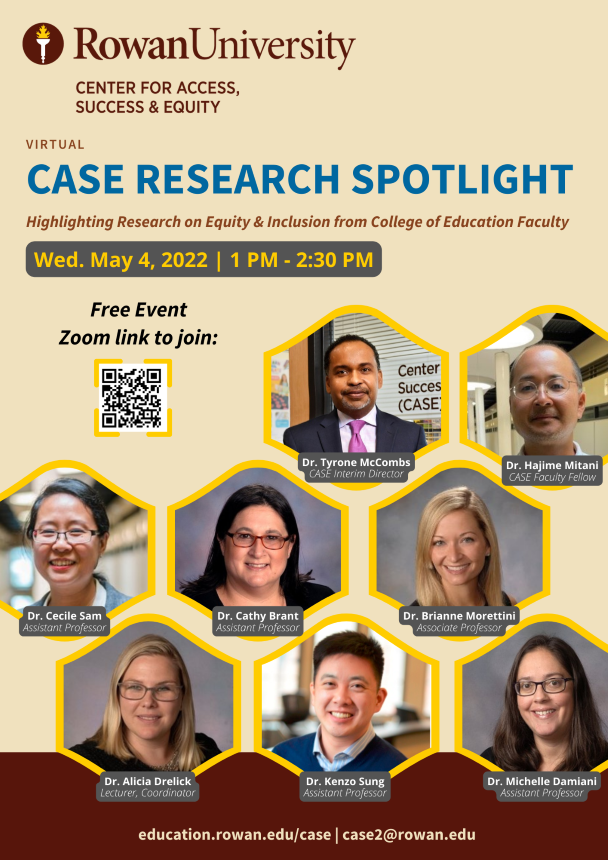 CASE Research Spotlight highlighted some of the research on equity and diversity from the College of Education Faculty here at Rowan University.
2022 CASE Annual Summit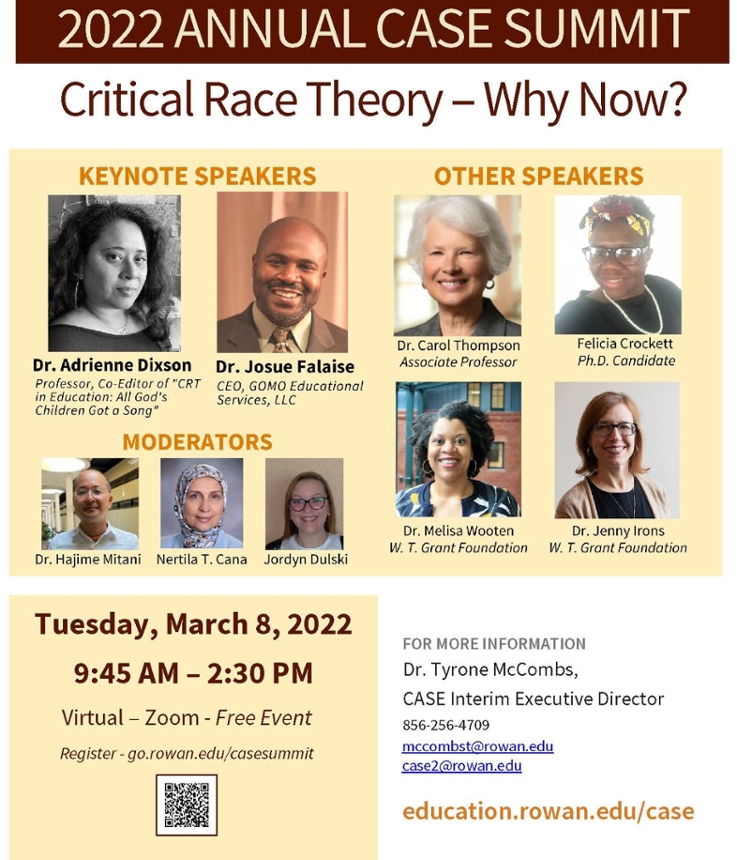 2022 Annual CASE Summit took place virtually on Tuesday, March 8, 2022. This year the theme was "Critical Race Theory: Why Now?" Featured keynote speakers included Dr. Adrienne Dixson, co-editor of CRT in Education, All God's Children Got a Song, and Dr. Josue Falaise, CEO of GOMO Educational Services. In addition, the CASE Summit featured Rowan faculty members, as well as other respected individuals in the field of education. Thank you to all the presenters and attendees!
CASE Annual Fall Forum - November 10, 2021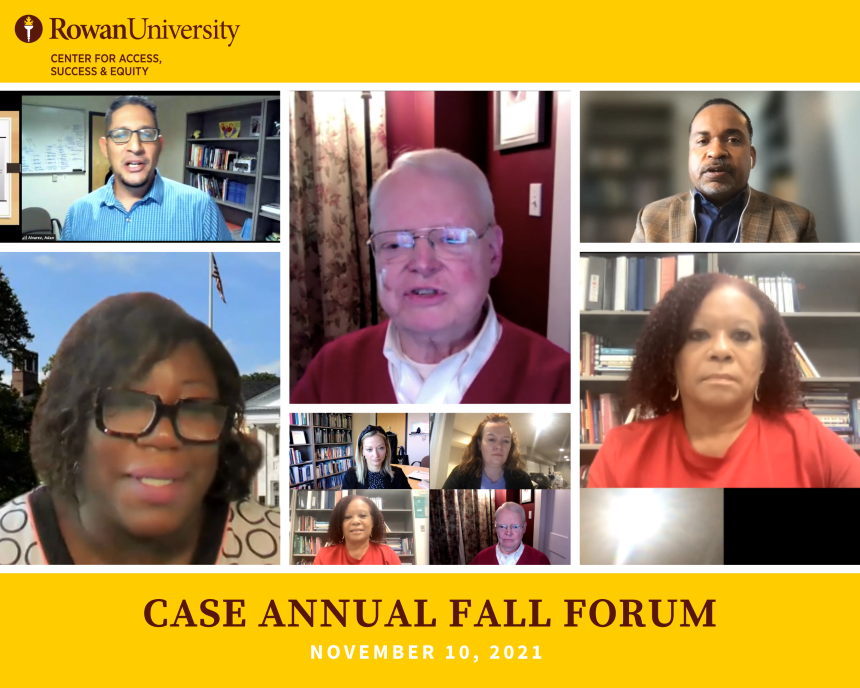 Thank you for attending CASE Annual Fall Forum "Race and Education"!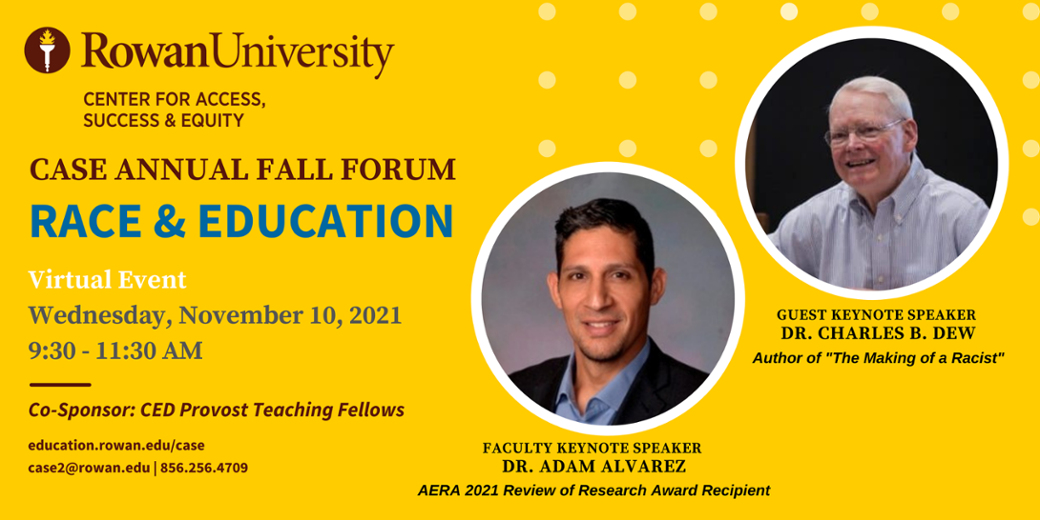 Center for Access, Success and Equity (CASE)
in partnership with the CED Provost Teaching Fellows
presented:
CASE Annual Fall Forum
Featuring keynote speaker Dr. Charles Dew, author of "The Making of a Racist",
and faculty keynote speaker Dr. Adam Alvarez. 
About Dr. Charles Dew
Charles B. Dew is Ephraim Williams Professor of American History, Emeritus, at Williams College. A native of St. Petersburg, Florida, he attended local schools and then graduated from Woodberry Forest School in Virginia in 1954 and from Williams in 1958; he received his Ph.D. from the Johns Hopkins University, where he studied under C. Vann Woodward, in 1964. He taught at Wayne State University, Louisiana State University, the University of Missouri-Columbia, and the University of Virginia before returning to teach at Williams in 1977.
Professor Dew retired in 2020 following forty-three years as a member of the Williams faculty. His teaching there focused on the American South, the era of the Civil War and Reconstruction, and the institution of slavery. His most recent book is The Making of a Racist: A Southerner Reflects on Family, History, and the Slave Trade. Earlier scholarship includes: Bond of Iron: Master and Slave at Buffalo Forge; Apostles of Disunion: Southern Secession Commissioners and the Causes of the Civil War; and Ironmaker to the Confederacy: Joseph R. Anderson and the Tredegar Ironworks. Ironmaker to the Confederacy and Apostles of Disunion both received the Fletcher Pratt Award, given by the Civil War Roundtable of New York for the best non-fiction book on the Civil War in its year of publication, and Bond of Iron received the Elliot Rudwick Prize from the Organizations of American Historians and was named a Notable Book of the Year by the New York Times.  
In a semester when many of his History Department colleagues will be on leave, he will be returning to the classroom in the spring of 2022 to teach his research seminar, HIST 456 "The Civil War & the Era of Reconstruction."
About Adam Alvarez, Ph.D.
Dr. Adam Alvarez is an Assistant Professor of Urban Education in the Department of Language, Literacy, and Sociocultural Education, College of Education, Rowan University. While his research aims to support all educators in K-12 settings, Dr. Alvarez is particularly interested in educators who work with children of color, children living in urban environments, and children who are exposed to violence and trauma. He uses various race-based, analytic frameworks and diverse methodological approaches to study how race and racism shape the social context of education across various settings. Featured in Theory into Practice, Equity and Excellence in Education, and Teaching Education, his scholarship contributes to a growing body of research, attempting to shift our institutional approaches toward preparing future educators and researchers to recognize and disrupt longstanding school and social inequalities. 
Dr. Alvarez teaches graduate courses, such as critical pedagogy, power and privilege, and other topics related to urban education. Additionally, Dr. Alvarez is a core faculty member in the Urban and Diverse Educational Systems, an area of concentration within Rowan's PhD in Education program for students seeking to either specialize in urban education research or broaden their understanding of and interdisciplinary approaches to exploring race, equity, and justice across various school and social contexts. 
Dr. Alvarez is the 2021 Recipient of American Educational Research Association's (AERA) Review of Research Award. Topic: "Seeing Race in the Research on Youth Trauma and Education." 
CASE Conversations Fall 2021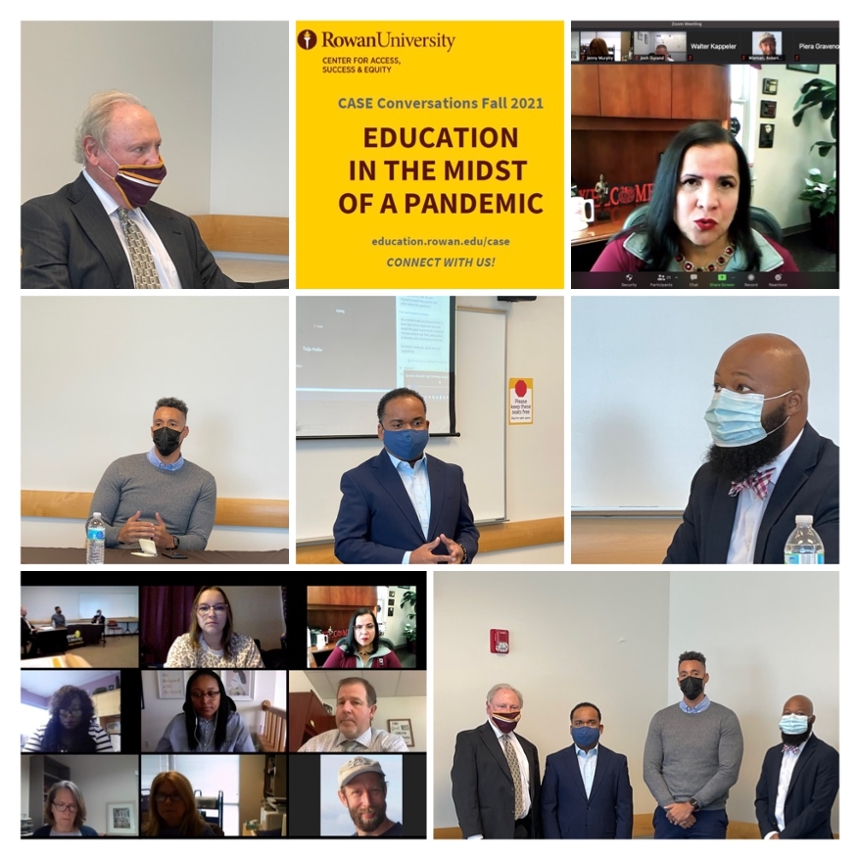 Thank you for attending CASE Conversations "Education in the Midst of a Pandemic" featuring a panel discussion with Dr. Cory Dixon, Associate Professor in the Department of Science, Technology, Engineering, Art, and Math Education (STEAM), Dr. Mark Silverstein, Superintendent of Glassboro Public Schools, and Dr. Zenaida Cobian, Superintendent of Penns Grove and Carneys Point Regional School District. Our panel was moderated by Dr. Adrian Barnes, Summer 2021 CASE Fellow and Coordinator of BA in Music Education. 
This conversation invited participants to think deeply about education during a pandemic and to uncover what new challenges are now a factor as students and educators across the country transition back to in-person instruction. 
2021 CASE Virtual Summit
March 5, 2021
---
2020-2021 CASE Conversations series
A Professional and Personal Journey to Why
Presenter: Dr. Lisa Vernon-Dotson
November 2020


Understanding the Effects of Trauma on P-12 Students
Presenters: Dr. JoAnn Manning and Dr. Bobbie Mann
December 2020


Mental Health Awareness for our Black and Brown Communities and the Importance of a Well-balanced Education for Students and educators
Presenter: Jonathan Shepherd, MD, President, Board of Directors of Black Mental Health Alliance
February 2021


Research Funding Opportunities in Education
Presenter: Stephen Robishaw, MPA, Office of Proposal Development Division of University Research
February 2021


The Impact of Education on Hate Crimes
Presenters: Dr. Adam Alvarez, Dr. Adrian Barnes, Dr. Kate Kedley, Dr. Anna Sun
May 2021
---
2018-2019 Real Talk and Book Club Events

---

---
Thanks to all who attended, supported and assisted with the third annual CASE Conference: Educators for Equity on March 19, 2019. With 113 attendees, it was a successful event that really highlighted the equity work of CASE and the College of Education at large.
Our keynote, Dr. Edward Fergus, helped to set the tone of the day, giving additional emphasize to the importance of engaging in this work.
Breakout sessions highlighted equity efforts in Bridgeton, Delsea, Glassboro, Haddonfield, Kingsway, Logan and Lumberton school districts.
Our panel of Superintendents from Delsea, GCIT, Haddonfield, Kingsway, Logan and Lumberton school districts was a great dialogue and opportunity to hear from school leadership about the self-reflection, commitment, and continuous improvement around equity within our areas schools, for many as a result of their partnership with CASE.
---
2018 CASE Mini-Conference 
---
2017 Inaugural Mini-Conference and Grand Opening Event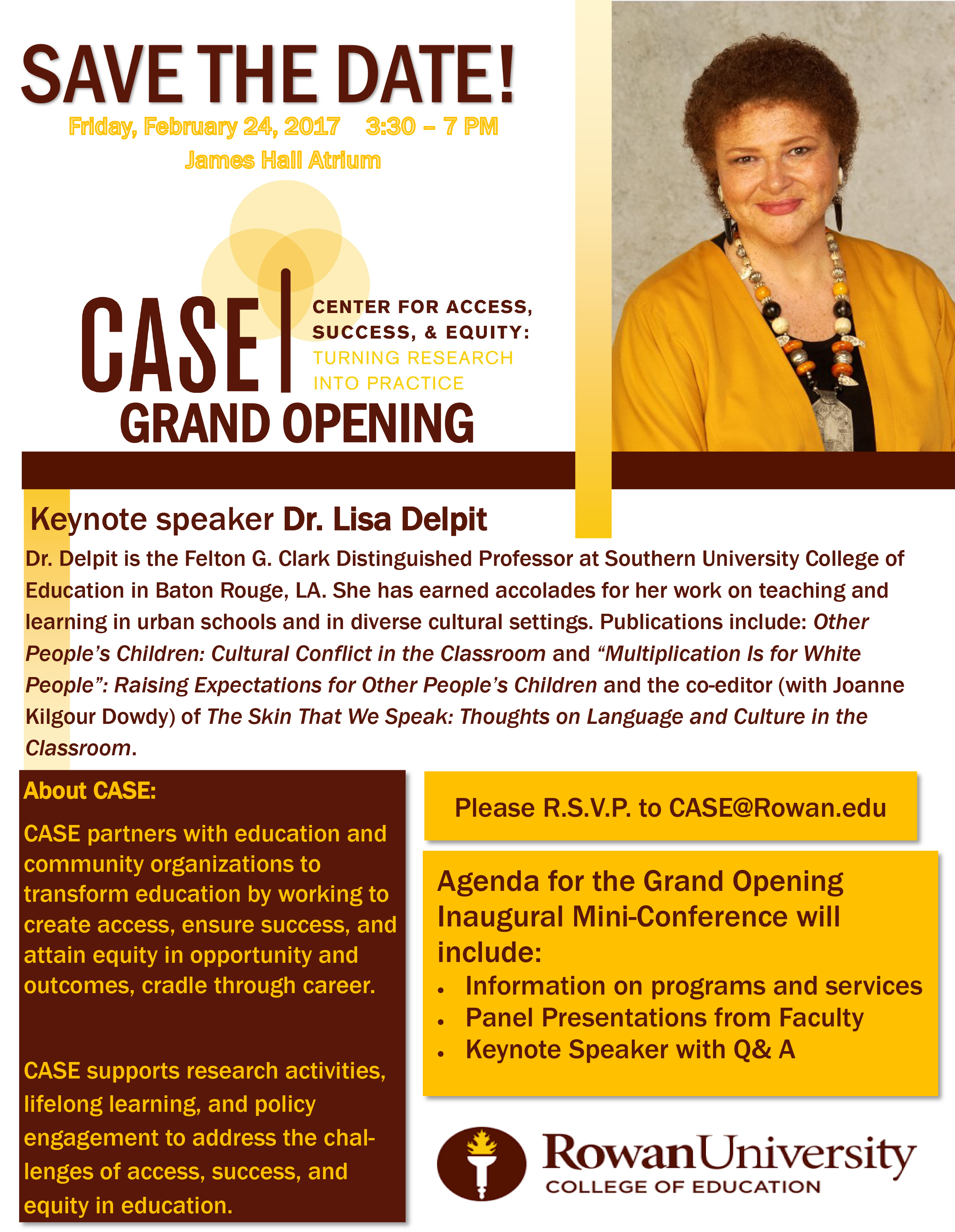 ---
2017 Real Talk 
---
2017 Research Panel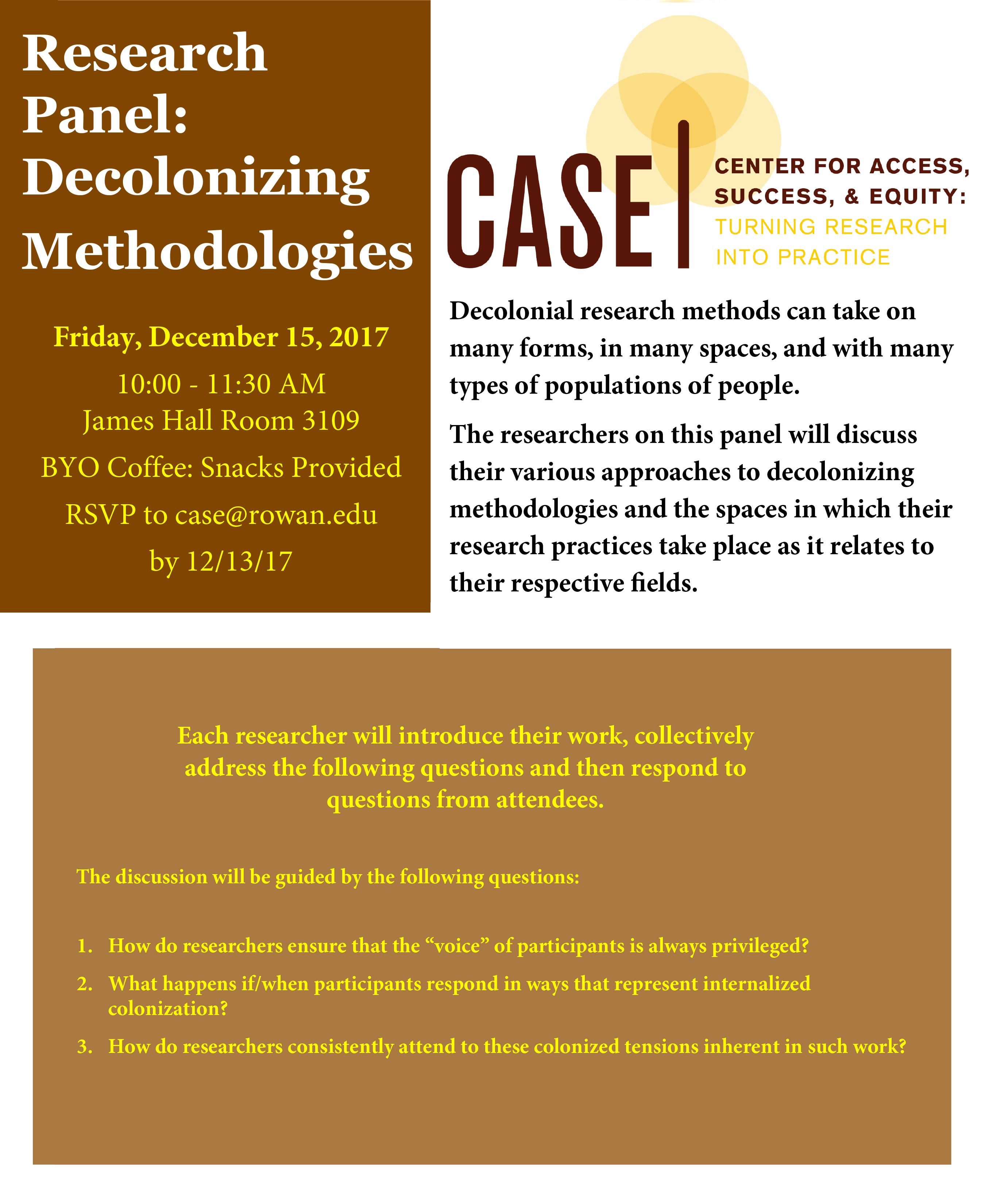 ---
2016 Real Talk 
---
American Promise film showing and discussion with filmmakers