family-community-events
family-community-events
Family & Community Events
The LRC-South offers FREE interactive sessions, educational activities and resources to foster family engagement and help support children's learning and social and emotional well-being. 
We are offering the following events and look forward to working with you!
2023 - 2024 Family Learning Activities
› Sweet Gingerbread Family Fun
Saturday, December 2, 2023 | 10:00 am - 12:00 pm
Run, run to the LRC as fast as you can so you can catch the gingerbread man! Join us for a FREE Family Event for all things adventurous and fun.  We'll explore the principles of STEAM (Science, Technology, Engineering, Arts, and Mathematics) as we share stories, construct and decorate our own gingerbread houses, and make cinnamon applesauce ornaments. Don't miss all the sweet fun! (Children ages 3-7)
---
› Polar Bear, Polar Bear, What Do You Hear?
Saturday, January 20, 2024 | 10:00 am - 12:00 pm
Calling all polar bears! Join us for some frosty family fun as we explore the beloved story Polar Bear, Polar Bear, What Do You See by Eric Carle. We will share the story and then create our own polar bear facts big book, paint with marshmallows, play in the "snow" and other fun surprises! (Children ages 3-7)
---
› Love Is All Around Us!
Saturday, February 10, 2024 | 10:00 am - 12:00 pm
It may be cold outside, but it is warm and caring inside the LRC! Come explore Valentine's Day with Pete the Cat and all of his friends. We will decorate Valentine's card boxes, design stamps, and create a special heart canvas. We are sure you will have a lovely time! (Children ages 3-7)
---
› Goldilocks and The Three Bears Explore STEAM!
Saturday, March 23, 2024 | 10:00 am - 12:00 pm
Once upon a time, there was a little girl named Goldilocks and three bears who were interested in exploring STEAM together! This FREE family event at the LRC will provide opportunities for families to engage in activities and explore engineering and design principles that promote critical thinking and creativity. (Children ages 3-7)
Past Events
Summer SEL-A-BRATION 2023

Tuesdays, 10 am - 12 pm | FREE Family Event

Each Tuesday families were invited to join the LRC-South staff for engaging stories and activities designed to inspire young learners (PreK-5th) to keep striding toward their goals while developing the self-awareness, self-control and interpersonal skills that are vital for success!

SEL Activities Schedule

June 20th | Let's Be Ourselves

June 27th | Let's Make Good Choices

July 11th | Let's Be Kind

July 18th | Let's Be Problem Solvers

July 25th | Let's Be Fantastic Friends
Spring 2023 Family Events

›  Frosty Family Fun

with the Jason Verdone | Saturday, January 21, 2023 | Free Family Event

Brrrr, it sure is cold outside, but warm inside the LRC! Calling all penquins, polar bears and winter friends (Grades: PreK-2nd) join us for a free family event focusing on all the fun things that winter offers, such as reading stories, building snowmen and talking about animals tracks and hibernation. Don't miss the "frosty" fun!!! 

---

›  Frosty Family Fun Fantastic Fairy Tales

with the Jason Verdone | Saturday, March 25, 2023 | Free Family Event

Hear Ye, Hear Ye! All little knights, unicorns and dragons (PreK-2nd) are hereby summoned for a free family-friendly event. Enjoy an enchanted twist on traditional fairy tales and explore hands-on magical activities.

---

›  Spring is Popping Up All Over

with the Jason Verdone | Saturday, April 22, 2023 | Free Family Event 

Spring has sprung! Inviting all of our peeps (PreK-2nd) to shake off the winter blues! Join us this Earth Day as we explore all of the wonders that spring brings while engaging in learning activities about the natural world around us.
Summer 2022 Programming | Be Your Best 'SEL'F with the LRC-South

 

All summer, families were invited to attend LRC-South's summer programming centered around the five competencies of social-emotional learning (SEL).

 

Each Wednesday reading and activity events were provided to highlight children's books to support positive decision making, create caring communities, and encourage self-management and social awareness.

 

SEL Activities Schedule

June 22, 2022 | We Are All Alike, We Are All Different!
June 29, 2022 | Let's Stop, Think and Make Good Choices!
July 6, 2022 | K is for Kindness!
July 13, 2022 | Dear Boys and Girls We're Glad You're Here!
July 20, 2022 | Who is On Your String and in Your Heart?
July 27, 2022 | Fabulous Friends!
Blast Off Into Space with STEAM

›  Blast Off Into Space with STEAM Family Event

We were over the moon to see so many families come out to our STEAM Family Event on Saturday, Feburary 26, 2022. Thank you to everyone who participated. We can't wait to see you all again soon!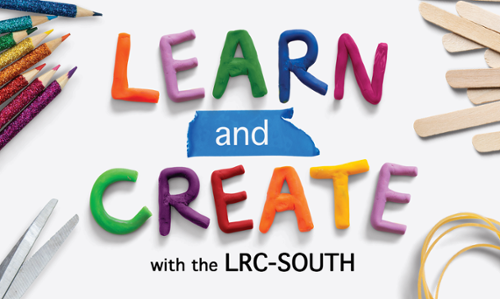 Learn & Create with the LRC-South
Make learning fun with these hands-on educational activities and helpful resources for parents and educators. Ice Cream Sight Words | Prop Box | Ten Frame Counting Match | Young Authors Become Engaged Readers | What's the Weather Interactive Chart | Beginning Sounds Roadway - Learn More