Family-Friendly Events
Family-Friendly Events

Our Family-Friendly events are open to all students who are parents.
We occasionally share family-friendly events, resources, and updates about our services. If you would like to be added to the Family-Friendly Campus mailing list, please send an email to ccampis@rowan.edu. 
Mini-Conference for Student Parent Success
Saturday, October 1, 2022 from 9-11am
Join the Family-Friendly Campus Initiative for a morning dedicated to celebrating and supporting YOU! All students who are parents/guardians are welcome. Feel free to bring a friend or partner.
Connect with fellow student parents.
Attend the workshop: What's Your Yes? Creating Healthy Boundaries with Our Children and Ourselves.
Learn about supports and strategies from offices all across campus and from former student parents.
Free child care is provided by the state-licensed Rowan Preschool (spaces are limited*). Children of all ages are welcome.
Share your expertise as a student parent to inform the work of the Family-Friendly Campus Initiative.
Breakfast, snack, and fun giveaways are provided for adults and children!
Conference location: Room 3091 in James Hall
Child care location: Rowan Preschool (first floor of James Hall)
Costs: Free
Contact: Email ccampis@rowan.edu
The mini-conference is conveniently scheduled before the Student Parents Focus Group (11am-12pm). Hope to see you there!
Save the Dates: Prof Parent Connections
Free events on Fridays at 5:30 pm
We meet on the first floor of James Hall in the ECDC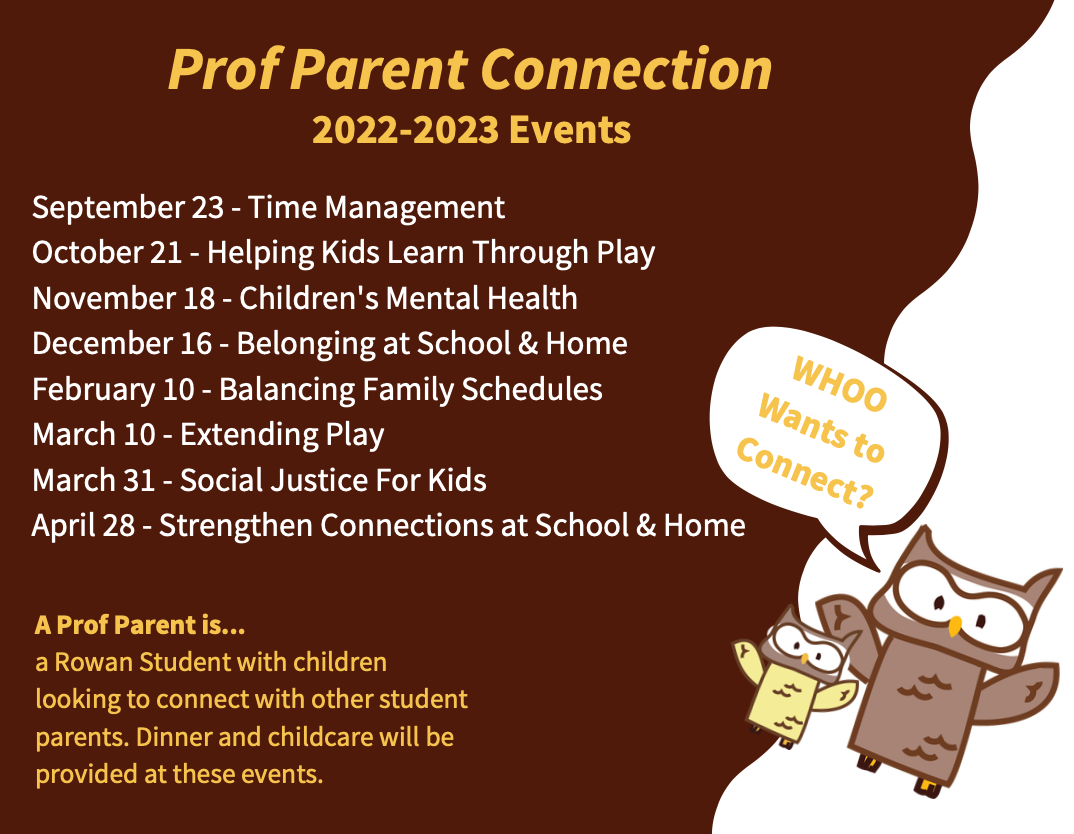 Past Events
Past Prof Parent Connection Dates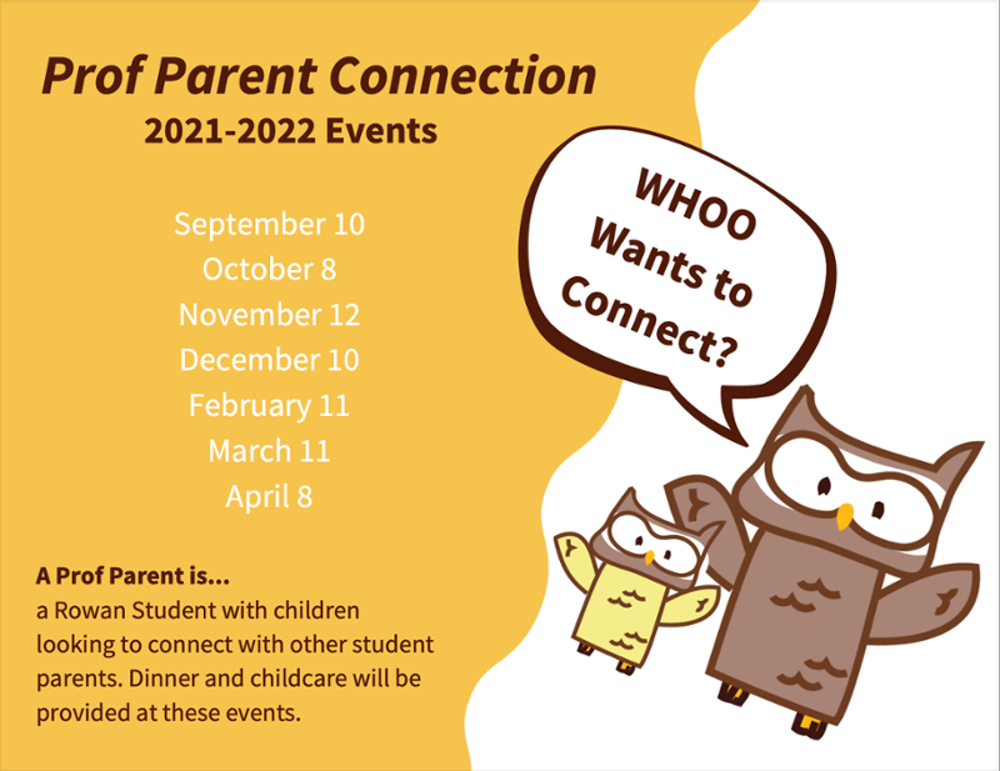 Friday, April 8, 2022 at 5:30 PM
Friday, March 11, 2022 at 5:30 PM
Friday, February 11, 2022 at 5:30 PM
Friday, December 10, 2021 at 5:30 PM
Friday, November 12, 2021 at 5:30 PM
Friday, October 8, 2021 at 5:30 PM
Friday, September 10, 2021 at 5:30 PM
Friday, May 15, 2020 at 1:00 PM
Past Rowan CCAMPIS Program Info Sessions
Wednesday, February 23, 2022 at 1:00-1:30 PM
Past Virtual Preschool Open Houses
Wednesday, March 24, 2021 at 1:00 PM
Tuesday, December 8, 2020 at 3:00 PM