COVID-19 Updates
COVID-19 Updates
COVID-19 Updates
July 17, 2020
Clinical Practice Placement Updates
Students who are scheduled to conduct Clinical Practice (senior/yearlong placement) in Fall 2020, plans are still being made for in-person placements for clinical practice 1 and clinical practice 2.  However the situation is fluid as the college is still awaiting NJDOE guidelines and districts' return-to-school plans.  The Office of Clinical Experience continues to work on placements for the fall semester and will notify students upon confirmation once received. Updates will be shared via email, so students should check their email account regularly. 
AS A REMINDER, PRAXIS II DEADLINE HAS BEEN EXTENDED TO December 1, 2020. In order to continue in the second semester of Clinical Practice in Spring 2020, successful completion of Praxis II is required. Additionally, NJ Criminal Background Clearances and TB test are still required for Fall 2020 (if not already completed). Please note, this deadline has been extended to September 1st. Contact coetpc@rowan.edu with additional questions.
July 17, 2020
Clinical Experience Placement Updates
Students who are scheduled to conduct Clinical Experiences (courses with placements prior to the senior/yearlong clinical practice) in Fall 2020, based on current conditions, the College of Education has made the decision that all early clinical placements will be virtual.  Therefore, there will be no early clinical experiences placements completed in-person within school districts during the Fall 2020 semester.  Instead, all clinical experiences will be conducted using alternative virtual platforms dictated by the program/department. You will receive more information as it becomes available.
AS A REMINDER, PRAXIS CORE DEADLINE HAS BEEN EXTENDED TO DECEMBER 1, 2020. Please note: some student may have a Praxis II requirement due at the same time so do not delay Praxis Core testing if possible and consult with the program Advisor. Additionally, since there will not be an in-person component, the NJ Criminal Background Clearance and TB testing has been extended to December 1, 2020. Please note: TB test results are valid for 6 months and may need to be repeated. Contact coetpc@rowan.edu with additional questions.
May 28, 2020 Updates
edTPA refund information for candidates who were impacted by school closures due to COVID-19:
On Tuesday, May 26, 2020, Pearson shared information with New Jersey colleges and universities regarding students' eligibility for edTPA refunds. Candidiates who meet the state's exemption criteria AND who have already registered in Spring 2020 for edTPA but have not yet submitted a portfolio of identifying candidates who are eligible for refunds will email instructions on how they should proceed to recieve a refund.
If you have questions regarding this communication, please contact Dr. Ray Foley, edTPA Coordinator at foleyr@rowan.edu
May 19, 2020 Updates
Praxis® Tests at Home
ETS is temporarily offering a Praxis® Test at Home option while many test centers are closed or have limited seating. To help as many test takers as possible, ETS is only offering the most frequently administered tests for at-home delivery (Praxis Core will be offered along with a select group of Praxis II exams). The tests are identical in content, format and on-screen experience to the Praxis tests taken at a test center. They are taken on a personal computer at home or another secure location and monitored by a human proctor online through ProctorU®. At home appointments are currently available 15 hours a day, seven days a week to address the scheduling needs of all candidates.
The option to take a Praxis test at home is available to those who meet the following criteria:
Your computer must meet the equipment requirements for the test, including the installation of the ETS Test Browser and the ProctorU Systems Check.
You must have a room that provides an acceptable environment for the test.
Your test must be offered as an at-home test. (Please note: The most frequently administered tests will be available beginning May 15 and additional tests will be added at the beginning of June.)
You MUST do the following before you register:
Once you determine your equipment and environment meet the criteria, follow these steps to register:
Log in to your ETS account.
On your ETS account home page, select Register for a PraxisTest.
On the Schedule Tests page, select the option for the Praxistest at home. You will select your test date and time later with ProctorU®.
Follow the directions to continue your registration and pay for your test.
When you finish, you will receive an email from ETS confirming your payment.
You will also receive an email from ProctorU with a link and temporary password to access your ProctorU account and select a test date and time. You can use this immediately to reserve your test date and time.
Please use the link below to access the ETS website for detailed information on the Test at Home option - you will be able to view a full list of available Praxis test titles, determine if you meet the criteria, and register to take an at-home test: https://www.ets.org/s/cv/praxis/at-home/

Please note: If you wish to reschedulea standard Praxis® appointment at a test center to a Praxis Test at Home appointment, you must contact Praxis Customer Serviceat 1-800-772-9476.
May 13, 2020 Updates 
Effective May 12, 2020, the New Jersey Department of Education (NJDOE) announced that it has waived the performance assessment for candidates completing educator preparation programs in Spring 2020. For additional information, please see the COVID Guidance page on the NJDOE website.  
For Clinical Interns in the College of Education at Rowan University, you are still required to provide the following evidence to satisfy eligibility for Certification recommendation, which is available in the Tk20 Field Experience Binders:
1.     Maintaining a 3.0 overall GPA at the end of the final semester of clinical practice
2.     Acquired a minimum of 360 clinical hours (240 prior to school closures and 120 post school closures, which is equivalent to 12 weeks of full-time clinical practice)
3.     Received a minimum of 5 formal observation assessments conducted by clinical practice supervisor
4.     Received 1 midterm evaluation conducted by clinical practice supervisor
5.     Received 1 final evaluation conducted by clinical practice supervisor
6.     Supervisor recommendation for certification that is a part of the final evaluation
If all eligibility requirements listed above and all graduation requirements are met, Clinical Interns, who were unable to successfully pass or submit edTPA, will be recommended for a CEAS to the New Jersey Department of Education.
If Clinical Interns have not already submitted a certification application, please contact Laurie Haines at haines@rowan.edu for additional guidance.  If students have questions about this posting, please contact Dr. Ray Foley at foley@rowan.edu.​
May 12, 2020 Update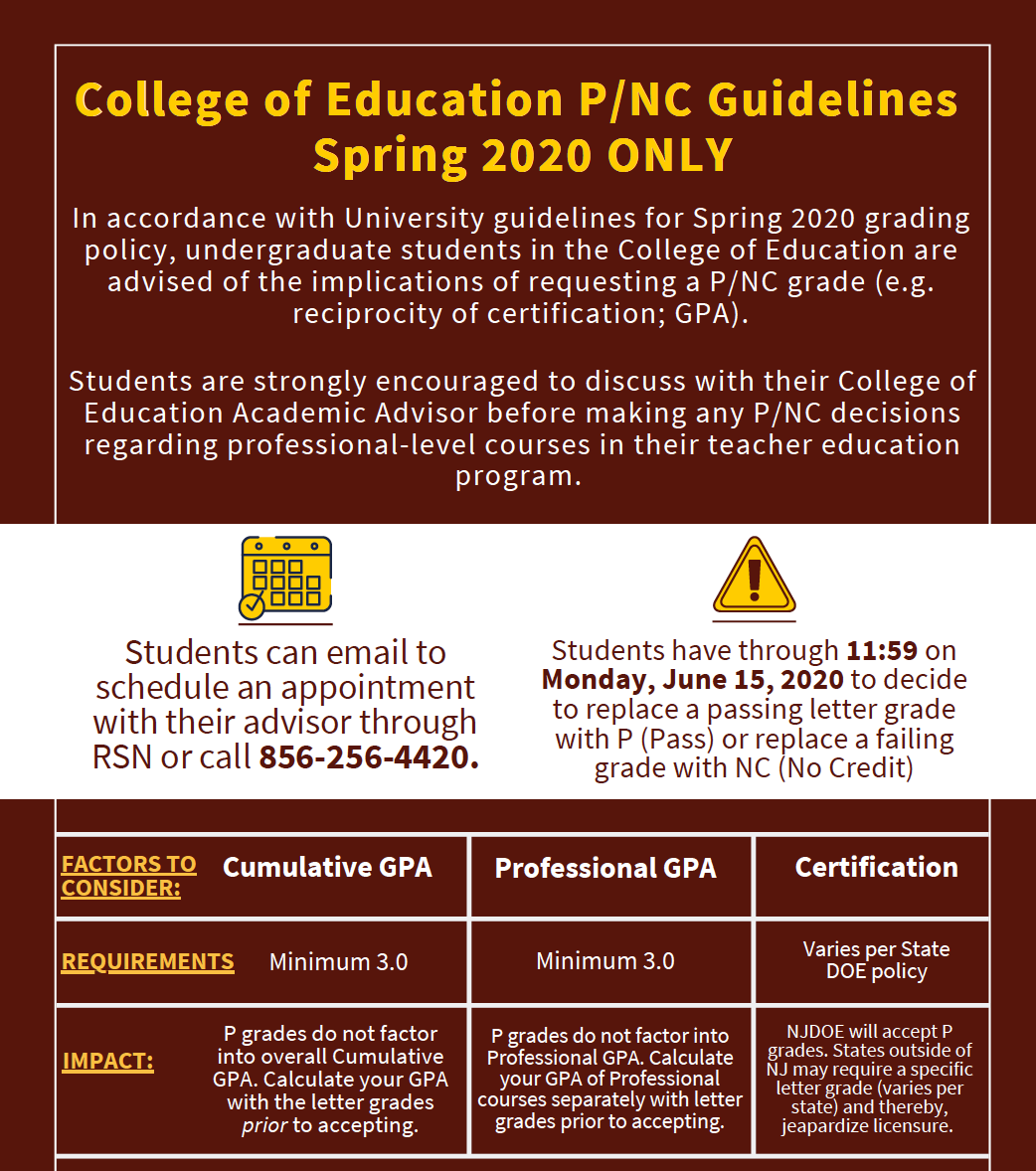 Additional Links:
May 1, 2020 Update