People of the CED
People of the CED
People of the CED
People of the CED is a social media campagin through the College of Education to help shine some light of all the wonderful students, alumni, and faculty here at Rowan. Each week a different student, alumna or faculty member are chosen and featured on our instagram and facebook pages. To see these posts please check out our pages @rowanced
Features
Johari Sykes-Ratliff
Johari is a Rowan alumna and faculty memember. She is an Early Childhood Lecturer and the Initial Teacher Preparation Coordinator for the BA in Education, specialization in Early Childhood. 
1) Why do you love working at Rowan and what is the most rewarding part of your job?
"The love that I have for Rowan started when I was an Undergraduate student and has grown as a employee. I am able to share the knowledge and experiences that I gained while in various positions with the Camden City School District. Rowan's Early Childhood students have demonstrated a passion for learning how to apply best practices, particularly in the field; this is one of the aspects of my work that I appreciate the most. It is rewarding to speak with my former students that have graduated about the positive impact of the Early Childhood program. My colleagues also make my work enjoyable. The IIE faculty have assisted me in my professional and personal growth."
2) Name, job, did you attend Rowan, what classes do you teach?
"Johari Sykes- Ratliff; Lecturer and Early Childhood Program Coordinator; I attended Rowan and received a BA in Education, Specialization in Early Childhood Education; I currently teach 2 sections of Principles and Pedagogies and 2 sections of Observation, Assessment, and Evaluation of Diverse Learners. I am also the Professor in Residence at J. Harvey Rodgers School."
3) What is your favorite class to teach?
"Observation, Assessment, and Evaluation of Diverse Learners"
"I love Rowan! And look how much my family loves Rowan!"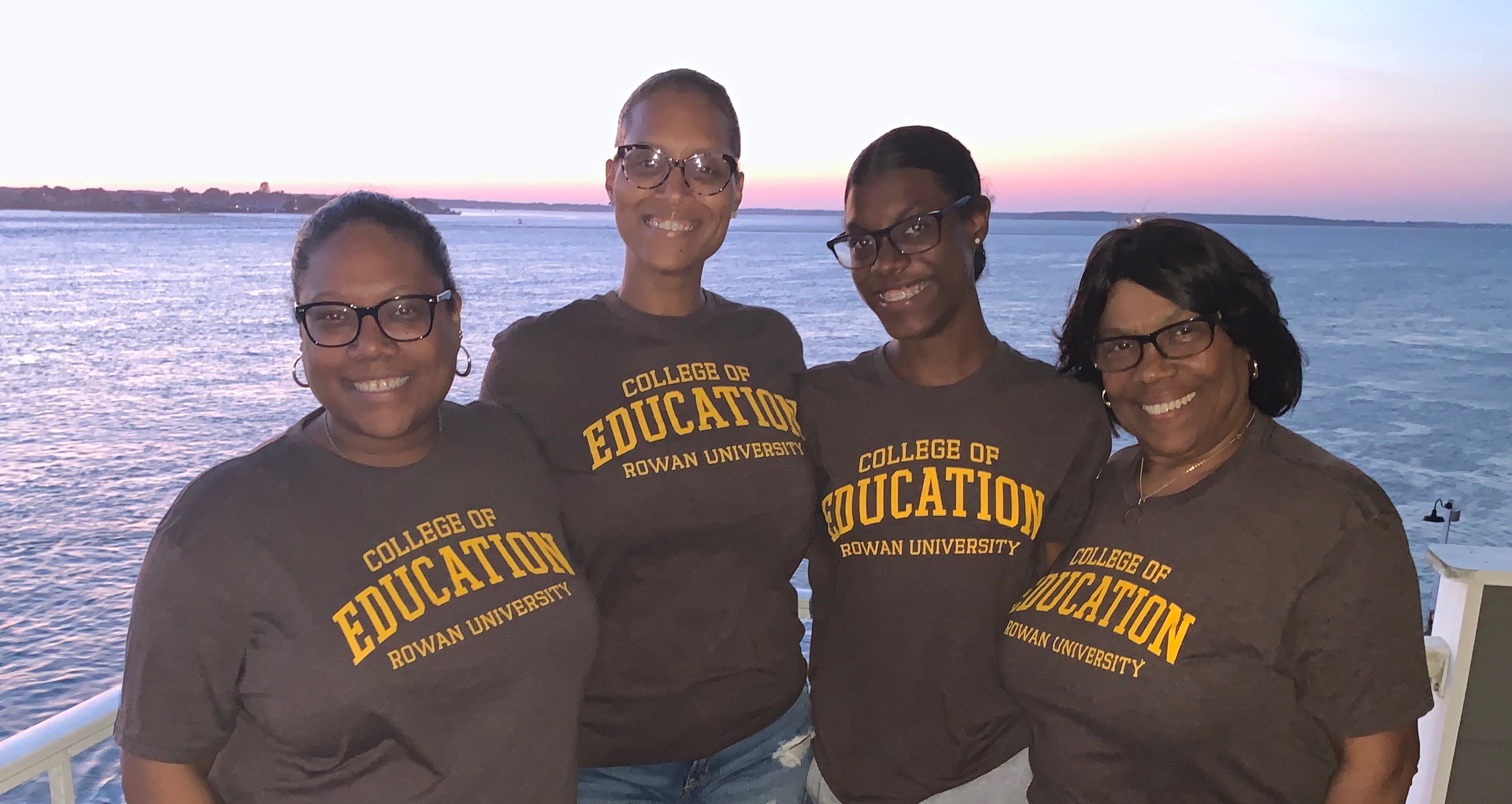 This photo is of Johari and her family on vacation in Ocean City, Maryland
Rylan Lynch
Rylan is a 2019 graduate of the College of Education and a high school English teacher.
1) How did Rowan help prepare you? 
"Rowan gave me a lot of opportunities to get involved in and out of the classroom. I was able to join many education-related clubs and gain resources from those and I had many professors who helped prepare myself and my classmates for things we would come across in a classroom of our own"
2) What was your favorite education class at Rowan? 
"My favorite education class was my Professional Seminar for SME English. I really enjoyed getting to hear about my classmates' experiences in student teaching and it didn't hurt that we got the chance to vent a little, too :) I learned a lot about what really goes on in the classroom each day and how to handle that as I moved forward in my own career. My professor was Dr. Luet and he was amazing too!"
3) Any advice for current or incoming education students? 
"The advice I have for current or incoming education students is to absolutely make the best of each field experience you have. The more involved you get, the more you will learn and be able to take with you in the future. Student teaching was hands down the most memorable experience I have from my time in Rowan's College of Education"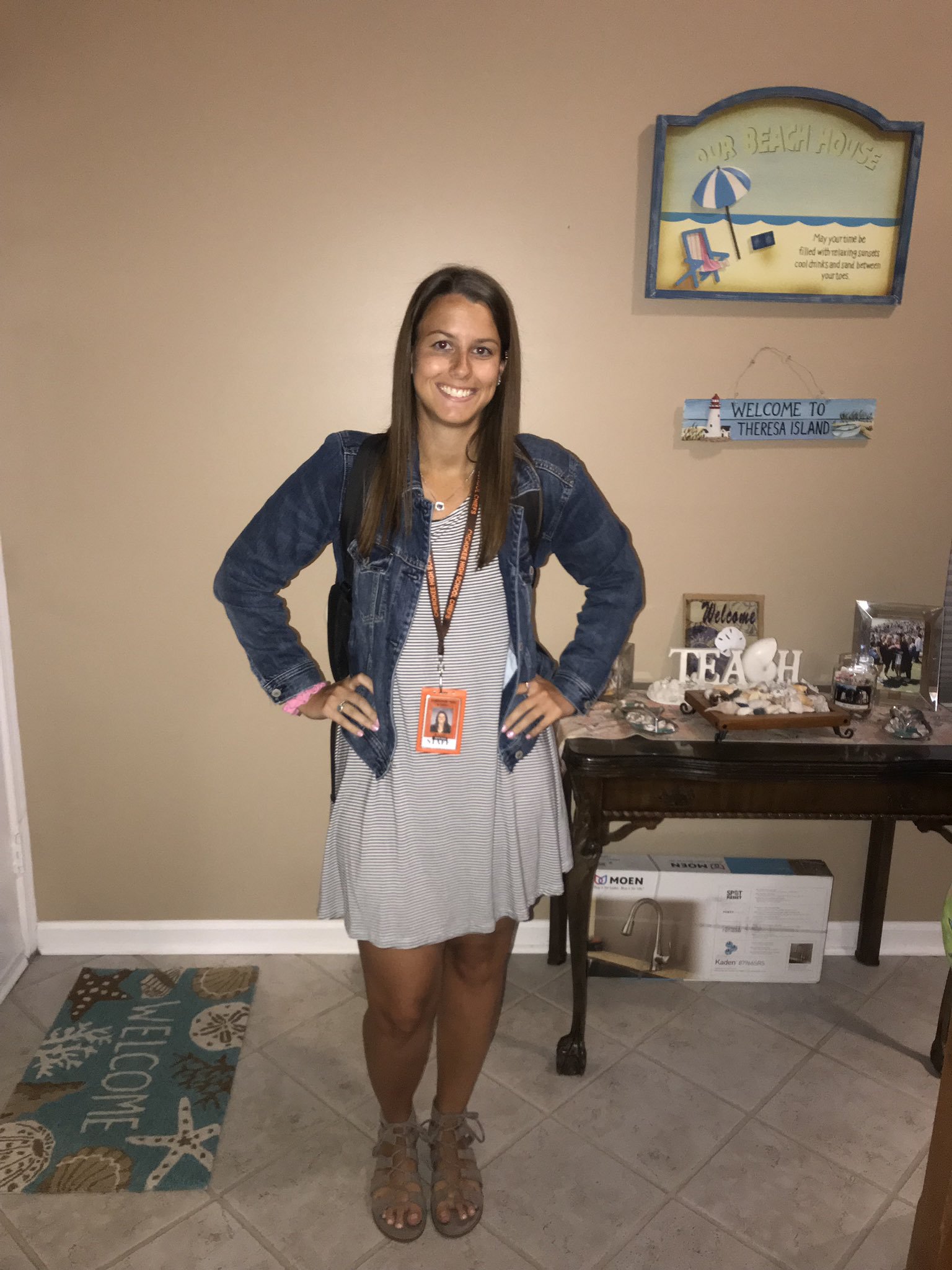 Erica Kling
Erica is a seinor health and physical education student who also works full time as an emergency room secretary at while and attends classes and student teaching during the day. She is a great example for our younger CED students to look up to.
1) Who inspired you to want to be a teacher?
"I played baseball in a recreational league when I was younger and years later returned to coach baseball for various ages. This passion inspired me. I loved how boys and girls alike would come to practice and games completely dedicated to the sport they loved. I thought maybe some other children may have missed their sport by not being exposed to it so I began to think what career path had the most impact and that's how I landed on health and physical education."
2) Where do you see yourself in five years?
"I see myself in a school as an HPE teacher for any age. Alongside that, I want to continue my passion of coaching baseball and expanding my coaching experience because I believe that it's important to always be learning. Lastly, I want to complete my Zumba instructor certification and then go for my kickboxing instructor certification."
3) What advice would you give an incoming student that you wish you received?
"Advice for an incoming student would be to take as detailed notes that you can in every class because when the information is not pertinent to you at the moment you never know when it will circle back and become relevant to you. For example Praxis ll: HPE I found my notes from the past to be extremely helpful."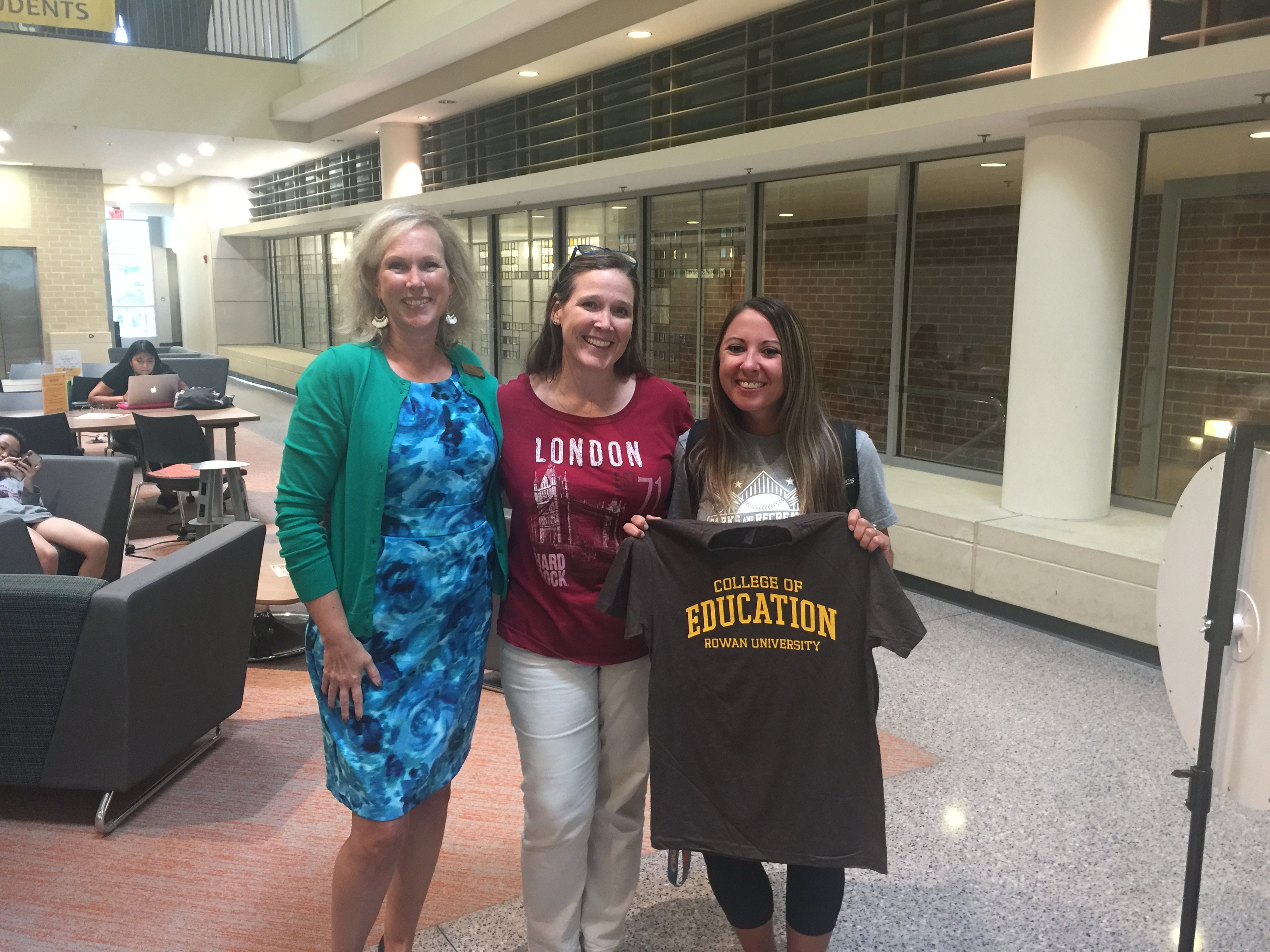 Erica pictured with Associate Dean Dr. Brown and Professor Willis
April Licato 
April is a recent May 2019 graduate and is currently teaching 9th and 12th grade math at Dunellen High School.
1) How did Rowan help prepare you?
"Rowan taught me that being a good math teacher is not just about cramming information into students' heads; it's about having students build to that information and formulate their own understandings. When students learn to create their own ideas and actually start to think, they will truly start to learn."
3) What was your favorite Education Class at Rowan?
"Teaching and Learning A, Mathematics. This class first made me understand how problem solving could be effectively implemented in the math classroom." 
4) Any advice for incoming or current education students?
"GET INVOLVED!!!!!!! There are so many great opportunities for students to become part of the CED, whether in a professional or content-level organization. Becoming a part of, and leading, these organizations encompass some of my favorite memories from my time at Rowan."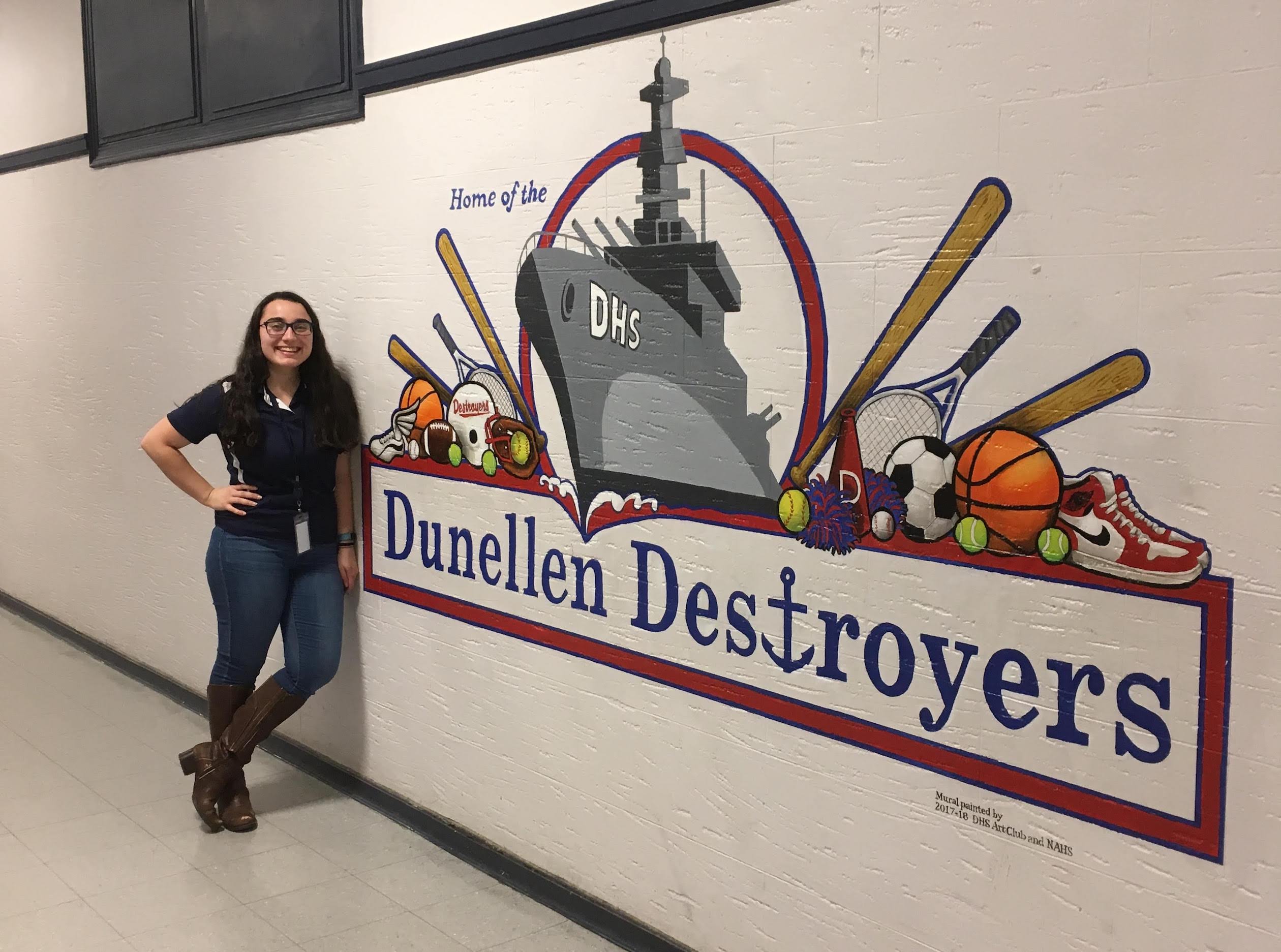 Tyra McCombs
Tyra is a freshmen and Early Childhood Education major with a concentration in liberal studies. 
1) Who inspired you to be a teacher?
"My mom was a kindergarten teacher and I always went with her to work on bring your child to work day and my dad also works in education so I have always been around schools growing up."
2) Where do you need yourself in 5 years?
"I see myself as a 1st grade teacher hopefully in a city like Baltimore."
3) What advice would you give an incoming student that you wish you got?
"That even though you say you're going to do something you should make a schedule because there are always events going on around campus that you'll want to go to, so prioritize."